Long proponents of open source technology, MIT's AeroAstro Department sought a complete relaunch on Drupal.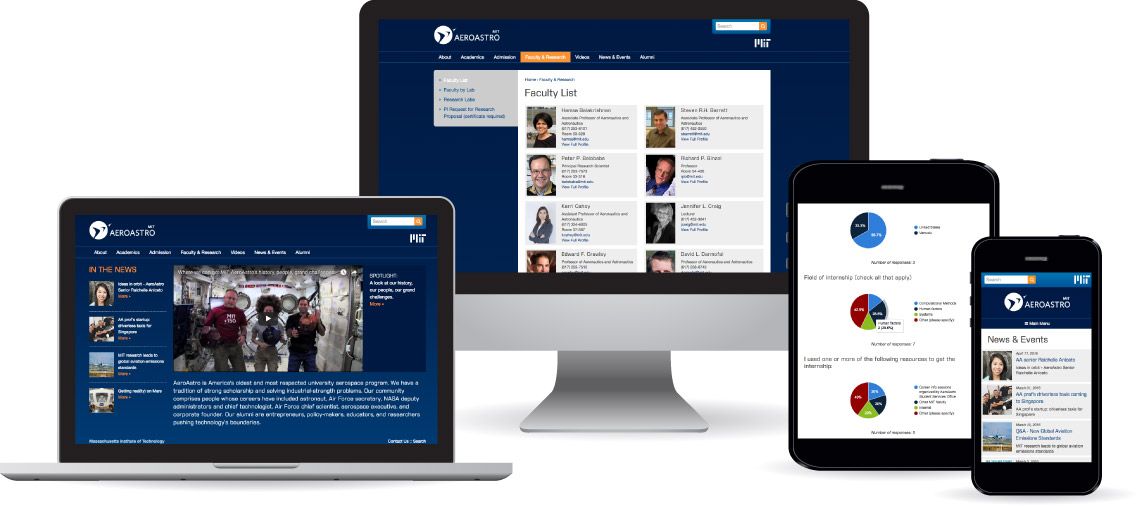 A Lasting Partnership
Technivant has teamed with AeroAstro's communications team for over five years, providing a wide array of Drupal services:
Responsive web design
Faculty and research staff profile pages
Lab profile pages
Student surveys
Private faculty pages
Staff-only resources
Touchstone/Shibboleth certificate integration with Drupal
Video micro-site with custom search
Image galleries and slideshow
Event management and notification system
News letter integration
System integration, deployments and Drupal maintenance
I want to say how much we appreciate your rapid responses to all issues we present, big and small. It certainly doesn't go unnoticed and that's why we like having you as our developers.
Bill Litant, Communications Director, MIT Department of Aeronautics and Astronautics
A Rich, Mobile-First Approach
Students, staff, and prospective students frequently visit the AeroAstro site on smaller devices.
Originally deployed in 2011 with separate desktop and mobile themes, AeroAstro wanted to stay current with the latest trends in responsive design. We worked with them to reconceive the site with a completely responsive, mobile-first Drupal theme. We achieved a highly consistent and usable experience across all devices without having to rework or migrate any content or take the site out of commission.