Maternova is the first global marketplace for ideas and technologies that save lives in childbirth. The Maternova site tracks innovative tools and protocols for mothers and infants, driving maternal and newborn care worldwide into the 21st century. Maternova approached Technivant with an existing Drupal site, seeking to add several new features.
Today, the Maternova site provides a rich offering of information and services.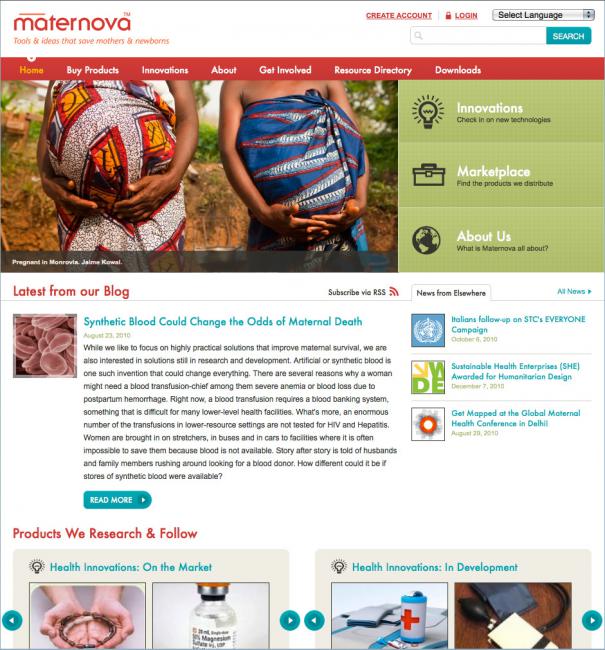 Spreading the Word on Innovations in Maternal & Newborn Care
Maternova has invested many years of work researching and reviewing tools and ideas for maternal and newborn care. This material is organized in its Innovation Index, driven by Drupal's content management sytem. The Index covers light, power, transport, structures, systems, IT, devices, vaccines -- innovations that save maternal and newborn lives from every angle.
Visitors can sign up and subscribe for updates to the Index; Maternova actively maintains and updates the Index as it researches and follows hundreds of innovations from idea to prototype to commercialized product.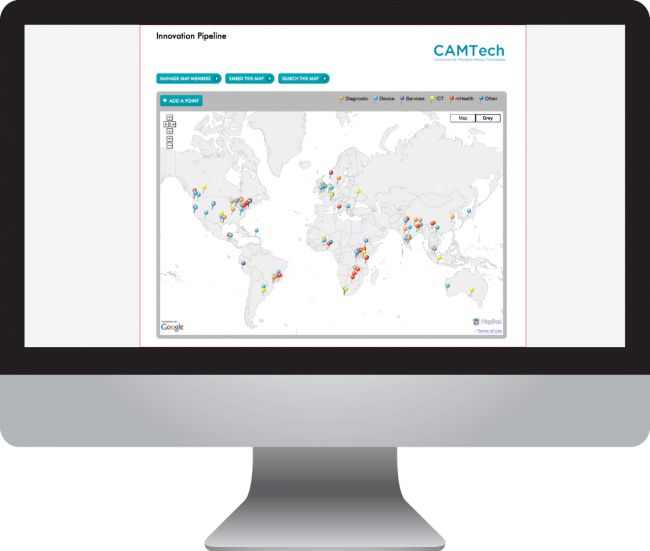 Mapping & Geolocation
The site's custom smart mapping services is built on GoogleMaps, OpenLayers and Mapbox. This flexible system can be used to visualize virtually any location-based data.  Maternova has used its mapping to crowd-source maternal and neonatal health facilities and reduce maternal mortality in Mexico.
Technivant has extended the custom mapping system to provide mapping for new and emerging innovations and protocols in the maternal care space. These maps are easily embedded on partner sites to maximize visibility and broaden awareness.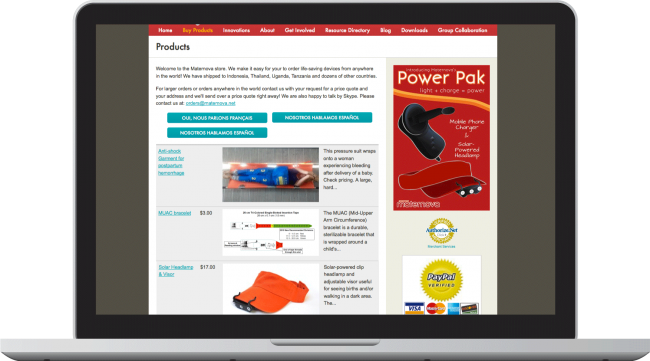 The Maternova Marketplace
Visitors can purchase products for maternal and newborn care from Maternova in an e-commerce store developed by Technivant. Features include:
International shipping (UPS, FedEx, USPS)
Multi-language product gallery
User reviews and ratings for each product
Credit card processing (Authorize.net)
Featured product slideshow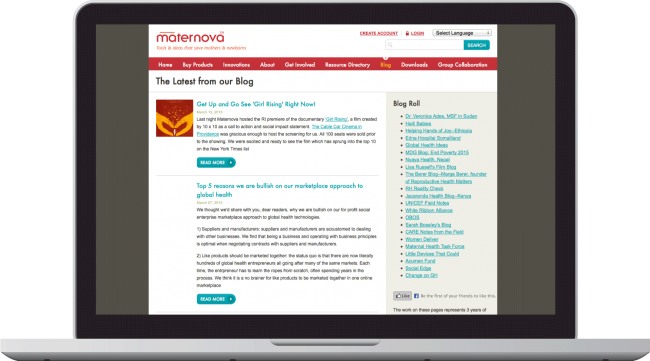 Building Community Through Social Media & the Mobile Web
Maternova has adopted an aggressive strategy for publicizing the Innovation Index. The site features an active blog, white papers, and other downloadable research. Technivant has worked with Maternova to provide social media integrations to publicize this information on Facebook, Twitter, YouTube, GooglePlus, Flickr as well as partner organizations.
The site's mobile version provides faster downloads in low-bandwidth locations, like Africa and South America where these innovations can often mean the difference between life and death.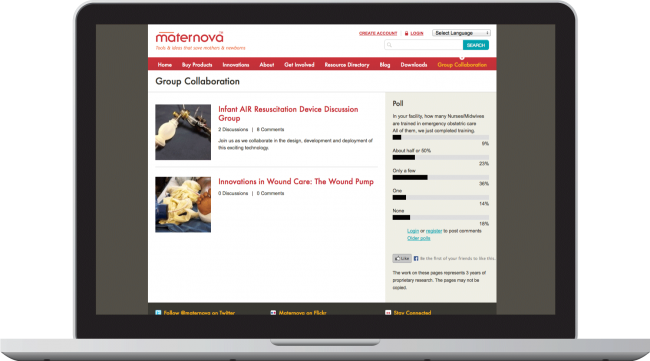 Group Collaboration & Research Dissemination
The site uses Drupal Organic Groups for enabling group collaboration around topics and technologies. Third-party authentication via Facebook and LinkedIn makes it easy for users to sign-up and participate on the site. Registered visitors have access to free downloads covering a variety of live-saving topics: infant hypothermia, jaundice, post partum hemorrhage, pre-eclampsia, and much more.
Technivant has acted as our IT team for our startup for over 2 years. They quickly reworked an existing Drupal site to meet our needs, turning around enhancements efficiently and effectively.
Meg Wirth, CEO & Founder, Maternova
We are proud to be an active partner with Maternova as they provide up-to-the-minute information that makes it easy for doctors, nurses, and midwives to improve outcomes in pregnancy, childbirth and postnatal care.